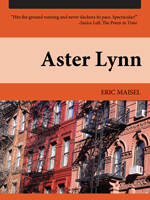 Aster Lynn
tells the story of a young painter who arrives in Manhattan to make a name for herself. This behind-the-scenes look at rivalry, revenge, and the creation of masterpieces is a must-read for anyone with a taste for the making of art–and anyone keen on a modern love story set against the backdrop of the arch at Washington Square.
"I found Aster Lynn a terrifically good read.  It hits the ground running and never slackens its pace.   I'm particularly impressed with two aspects of Maisel's accomplishment. One is that he writes with complete credibility from the point of view of a young, beautiful woman.  The other and even more impressive accomplishment is that the creative process comes alive for the reader when Aster paints.  I've read only one book that does this as well, Mario Vargas Llosa's The Way to Paradise. But that was a novelized version of the life of Gauguin, where there were real paintings to describe.  In imagining Aster's work, Maisel has gone him one better. Spectacular!"— Dr. Janis Lull, Emeritus Professor of English, The Metaphysical Poets and The Poem in Time
PRAISE FOR ASTER LYNN
"Aster is vivid, strong, and a feminist's delight! That I finished it in one sitting is a testament to Maisel's five-star writing skills. As a feminist and grassroots activist who has published in the scholarly and creative genres, I have a deep respect for the way Maisel moves fluidly, intelligently, and enchantingly through these territories. An enduring gift!"
— Si Transken, Faculty, University of Northern British Columbia
"Make sure you begin Aster Lynn with time on your hands because you won't be able to put it down. This book is lean, fiery, swift and inspiring. You will read it compulsively and breathlessly. Maisel's simple to read and deceptively plain style ends by searing your heart. He writes with a rare, deep sensitivity to the psyche of the creative person and to the act of creativity itself. Every sentence rings true as Maisel shape-shifts to call up the spirit of art—for once, and uniquely, drawn in the body and mind of a (gun-totin') young girl…  my new hero, Aster Lynn!
— Pan Morigan, recording artist
"Aster is gutsy, impulsive, thoughtful, unpredictable, focused, extremely self-confident, yet vulnerable – her character development results in a plot that was continually surprising and engaging. I loved it and couldn't put it down!"
— Cathy Harville, visual artist
"I blew through Aster Lynn in one day— I couldn't put it down from the second I started to read. It struck me smack in the middle of my third eye: I wanted to cry and scream and howl and paint and sing. And I didn't want the story to end! In telling Aster's story, Maisel has captured the fire, the wildness, the despair, and the rollercoaster ride of an artistic life, and it also brought me to an examination of my own artist's underbelly. This is a strong tale featuring an exceptional and passionate lead: I will definably recommend it to all my friends when it becomes available for sale!"
— Stacey Rasfeld, author, musician and visual artist
Rarely does a manuscript mesmerize me to the point that once I start it, I can't stop reading, but ASTER LYNN owned me right through to the last page. What makes this so unusual is that the author, Eric Maisel, rarely writes novels. He's had more than 40 books published and is famous as a creativity coach for writers, artists, musicians and actors. Google Author Eric Maisel and you'll be flooded with his credentials. I was fortunate to represent his book A WRITER'S PARIS back in 2004 which so entranced Jane Friedman that she grabbed it for Writers Digest, despite being hardly a book you'd expect them to publish. I have that book propped up on my mantel and it makes me feel good every time I see it. But the last thing I ever expected was not only to hear from Eric after all these years but learn that he'd written a new novel! I've read over a thousand books in my lifetime but never have I met a protagonist as unique and mesmerizing as Aster Lynn. No wonder he named the book after her! She is the book. I don't think I'll ever forget her."
–Jodie Rhodes, Jodie Rhodes Literary Agency
 AVAILABLE NOW
If you are a literary agent, book editor or independent publisher and are interested in this title,
please contact Eric Maisel at ericmaisel@hotmail.com.