Heal the Authoritarian Wound Through Writing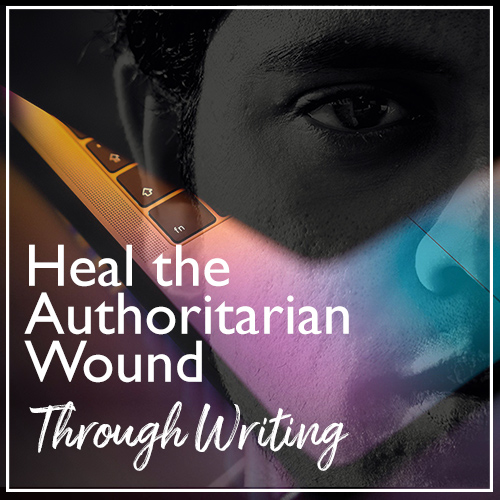 DETAILS
Heal the Authoritarian Wound Through Writing
Eight-week course. Weekly lessons and writing assignments, orientation zoom call and additional zoom calls, camaraderie, support, and a rich experience.
Dates: January 18, 2021 – March 12, 2021
Cost: $295 (the course fee is completely refundable until January 1, 2021; no refunds thereafter)
Heal the Authoritarian Wound Through Writing
Can you do your best work or live your best life if you were wounded by an authoritarian and are still affected by that wounding?
Wouldn't you dramatically increase your chances for success and dramatically increase your emotional well-being if you could finally heal that wound?
It's time to heal. And you can heal.
Were you harmed by a family bully? By your father, your mother, or one of your siblings? By a bullying teacher or a bullying mentor? By a narcissistic boss or an abusive spouse? Maybe the authoritarian was a clergyman, a scout leader, or a national leader. These painful experiences cause wounds that are very hard to heal. But now you can heal those wounds through writing.
Through writing, you will affirm and learn in a deep way that:
+ This really went on (you weren't crazy)
+ You didn't have a choice (you didn't choose it)
+ You didn't have allies (you had to go it alone)
+ You didn't have power (you couldn't fight back)
+ You couldn't possibly understand (how could you?)
+ You were truly harmed (there were real consequences)
+ Healing is possible (through heartfelt, focused writing)
Through writing, you will come out the other side. You'll engage with writing exercises designed to help you:
+ Create daily practices that support your healing
+ Shed psychological, emotional, and personality baggage
+ Understand the past and envision a bright future
+ Forgive where forgiveness serves you
+ Create firm-but-gentle action plans that support your intentions
+ Really heal
Authoritarians make up as much as 25% of the population. The chances are great that you've encountered one and been seriously affected by one. This is your chance to heal.
Come join Dr. Eric Maisel, a leader in helping survivors of authoritarian wounding heal, grow, and thrive. His book Helping Survivors of Authoritarian Parents, Siblings and Partners and his many Psychology Today blog posts on authoritarian wounding have reached hundreds of thousands of readers worldwide. This is your chance to benefit from Dr. Maisel's support and expertise and change your life for the better.
About Eric Maisel
Eric Maisel is the author of 50+ books. He writes the "Rethinking Mental Health" blog for Psychology Today (with 2.5 million views), his classes have been taken by tens of thousands of students, and he maintains a worldwide creativity coaching practice. His books include Overcoming Your Difficult Family, Helping Survivors of Authoritarian Parents, Siblings and Partners and Rethinking Depression and his classes with DailyOM.com include How to Break Free from Trauma, You Are What You Think, and Achieve Emotional Health in 14 Days. In addition to his Psychology Today blog, Dr. Maisel blogs for Thrive Global, Fine Art America, and the Good Men Project.
Visit Dr. Maisel at http://www.ericmaisel.com, subscribe to his weekly newsletter at https://ericmaisel.com/newsletter and learn more about his blog posts at authory.com/EricMaisel