Deep Writing San Francisco 2023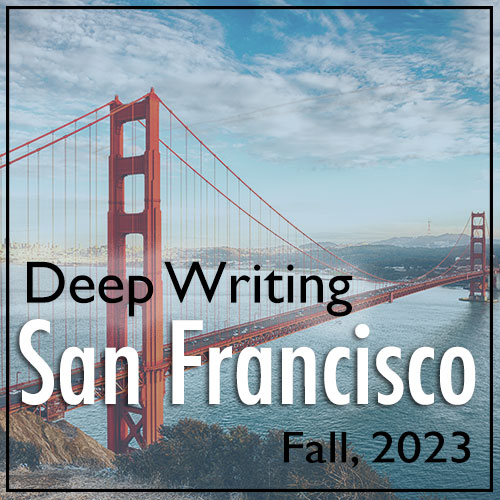 DETAILS
Workshop dates and times
October 2 – October 6, 2023, daily from 10 a.m. – 2 p.m. Optional group gathering on Sunday evening, October 1, before the workshop begins. 
Pricing
The workshop fee is $695. There is an early bird price of $595 until May 1, 2023. All other expenses, including flights, lodging and meals, are on your own. Be as lux or as frugal as you like! We will also likely gather for some happy hours, a group dinner or two, and other festivities. Come enjoy!
Deposit
A $200 deposit holds your place. It is refundable until May 1 and not refundable after that.
Venue
To be determined. I have my eye on a couple of great locations. 
Important Note
Please do not book any nonrefundable flights or lodging until the workshop is confirmed. I will let you know when the workshop is confirmed. Please do not wait to hear that the workshop is confirmed before getting in your deposit or your early bird payment, as the workshop is likely to fill up. Get your deposit in soon.   
Deep Writing San Francisco
October 2 – 6, 2023
Come for the sourdough. Stay for the writing!
Please join me for a five-day Deep Writing workshop in one of the great stops on the International Bohemian Highway, San Francisco, California. 
Below you can read many, many endorsements of my Deep Writing workshop. They do a wonderful job of describing what makes this workshop so special. And it is special <smile>. 
You will write; you will come away having learned many important lessons; you will enjoy the camaraderie of a group of like-minded writers; you will fall back in love with your writing; and you get San Francisco as a bonus!
You will do lots of writing … and there is no critiquing or sharing. This is a genuinely safe environment in which you get to dive deeply into your work, whether that's new work or a work-in-progress. This workshop is for writers at every level of experience, from the not-quite-started-yet to the very experienced. Come join me!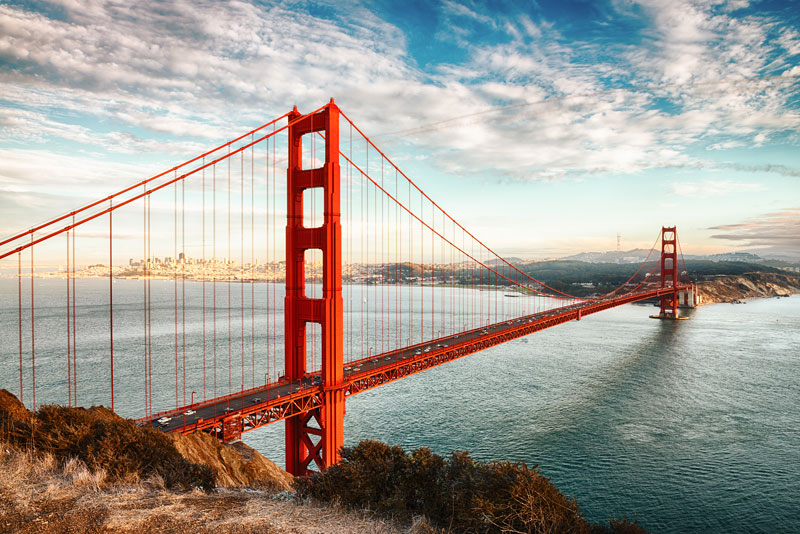 Here are many endorsements of the workshop. Please come join me in San Francisco. You will have a wonderful time.
Deep Writing Endorsements
"I began my novel in one of Eric's Deep Writing workshops, finished it in another, and quickly sold it for a lovely advance. Eric and his writing workshops have made all the difference in my writing life."
–Eva Weaver, The Puppet Boy of Warsaw
"This was a wonderful week of encouragement and guidance from Eric that helped me get honest about and confront my anxiety about my writing. I am grateful for the opportunity to spend so much time and energy on my writing this week. Not only did this workshop help me develop confidence in my own writing but it opened my eyes to the larger possibilities and whetted my writing appetite."
– Sara L.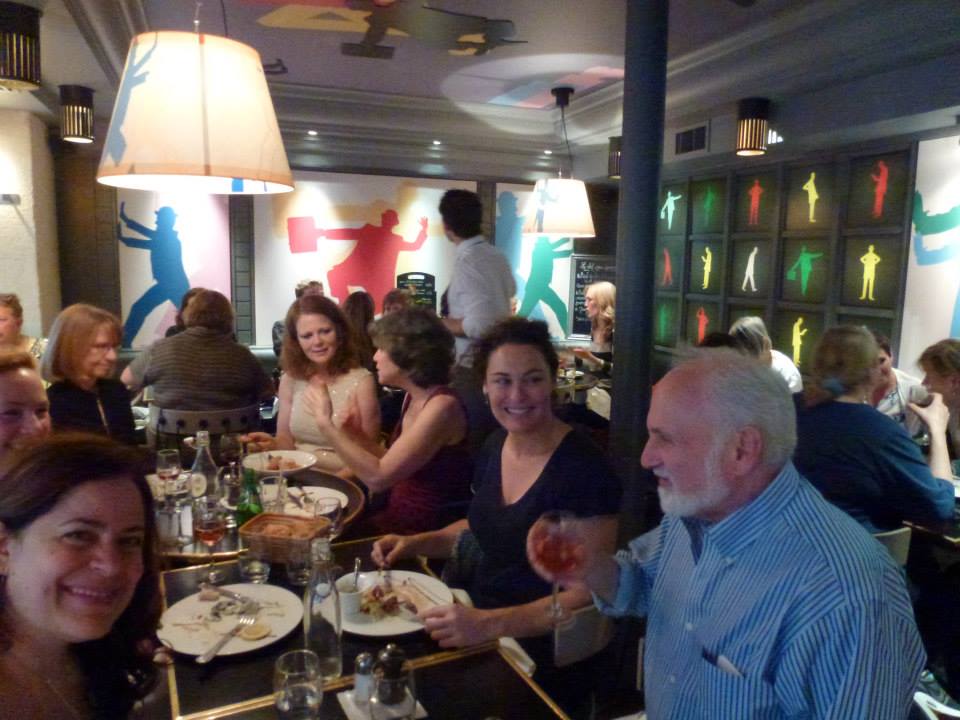 Dinner Paris Deep Writing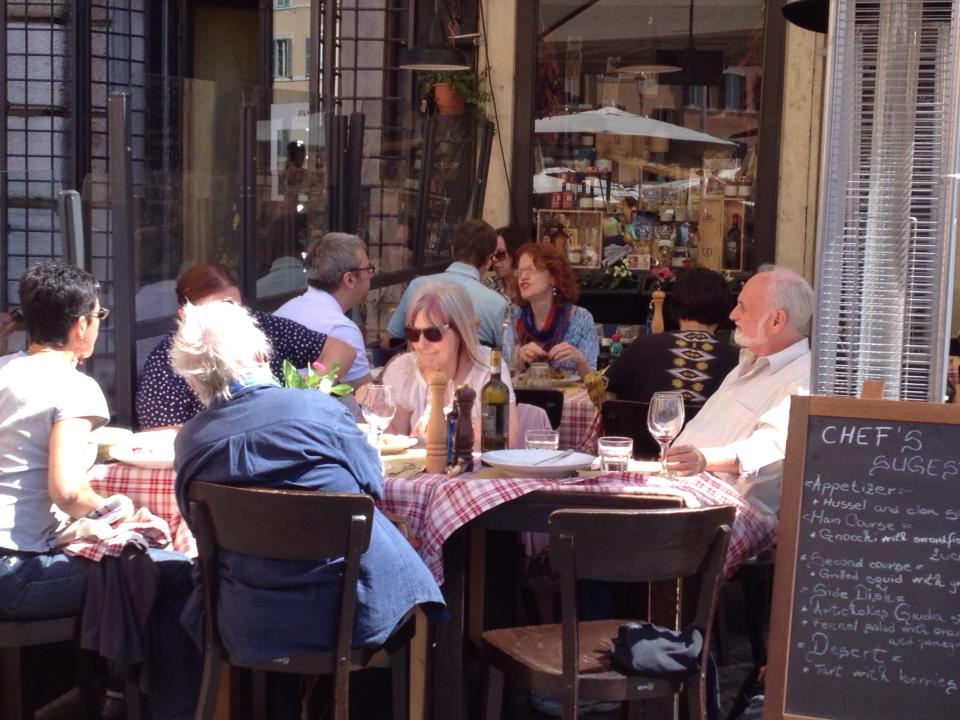 Afternoon – Rome Deep Writing
"Eric provided a safe forum for writers to really find their tribe. He encouraged us, validated us, and inspired us. His advice was instantly credible and powerfully pragmatic. But more importantly, he gave us time to devote to our work. It would be nearly impossible to walk away from this workshop and not feel inspired and incredibly productive. To all working and aspiring writers, this is a must-attend retreat."
– Anita N.
"At some point in the workshop, I regained my drive to write and create meaning in both my inner and outer landscapes. Eric's leadership made that possible for me and facilitated that shift into my newfound sense of identity as a writer. Thank you, Eric!"
—Marian R.
"This is unlike any workshop I have taken at Kripalu, in that the yoga 'off the mat' and meditation happen in the process of the writing itself. Eric arms you with so many helpful things to know psychologically that opens up your writing to just flow. He creates an enormously safe space to move with and past your demons, allowing you to see yourself create and not procrastinate. These elements are balanced with clear and doable steps to then market and sell your work. This has been an invaluable experience that truly transforms."
– Debra L.
Workshop description
My deep writing workshops are simple in structure and powerful in effect. During the workshop, you relearn how much writing means to you and you make real progress on your chosen project.
A genuinely safe environment is created because participants' writing is neither shared nor critiqued. Rather, the group receives permission to spend time connecting with and falling back in love with their own writing.
Each writing session begins with an important lesson. You explore the unique challenges that writers face and have the opportunity to resolve longstanding issues around committing, planning and doing, generating mental energy, achieving a centered presence, mastering anxiety, and maintaining a writing life.
This workshop is ideal for writers of every level of experience, from published authors to writers who have yet to begin writing. It is likewise ideal for writers who want to discover what they want to write, who are hoping to get back to a beloved project, or who are immersed in a current project. Give yourself the gift of a week in the embrace of your own writing!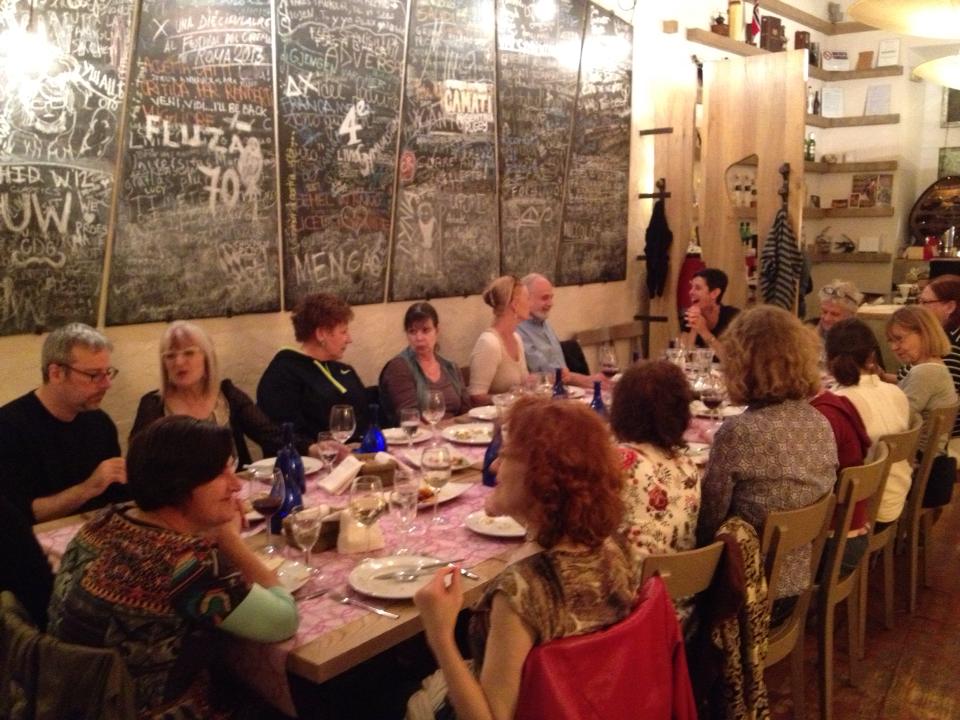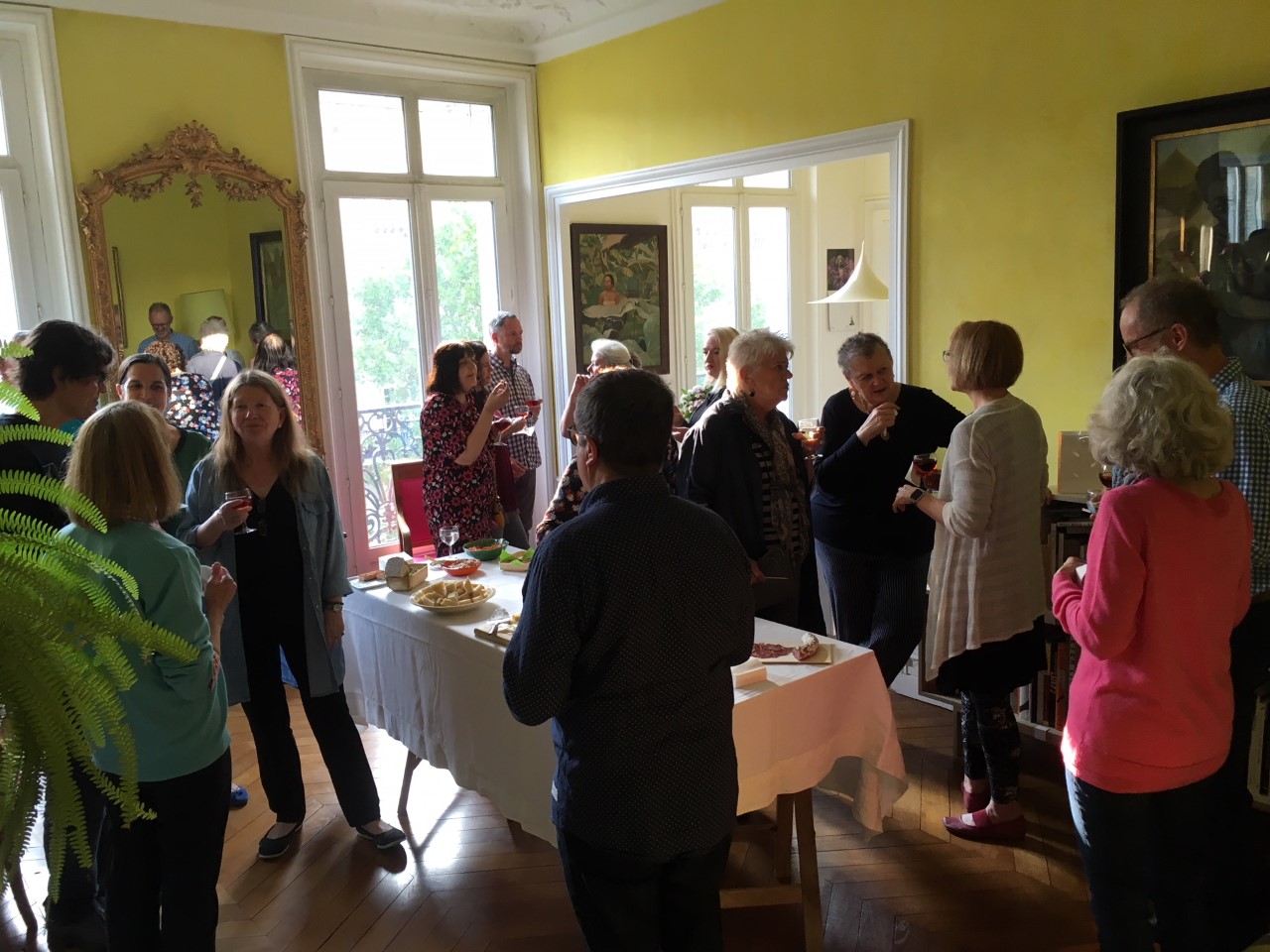 Gathering Paris Deep Writing
"In the last three years I've written, crafted, and stressed about three short stories. In the last three days with Eric, I've written, edited, struggled with and enjoyed creating three new short stories. What didn't seem possible to me previously is now an organized set of tangible techniques, strategies, awareness, and work that I'm producing."
– Muireann O.
"Eric Maisel's workshop landed perfectly for me: safe space, good sound practical advice, and hours and hours for writing. Spending five days with like-minded people, writing, yoga, great food – all invigorating!"
—Maureen M.
"Eric knows the writing process from the inside out and that's how he teaches it. I've learned how to quiet my mind, still my body, and focus my intention. The result? 15,000 words written and a strengthened conviction that it matters."
– Darlene C.
Please enjoy these additional testimonials. Folks have enjoyed and benefited from their experience and you will too!
"I didn't know what I was looking for when I signed up for Eric Maisel's Deep Writing workshop. By the end of Day 2, I had found it anyway. He gave me the tools to sustain a writing practice and to honor my desire to write. I can't think of a better endorsement than to say that I hope that my daughter one day encounters Eric. He shows how to stay sanely, smartly, and creatively committed to your passion."
– Lourdes V.
"I learned to write through my anxiety: to label it and acknowledge it and navigate through it. I developed a confidence in myself as a writer and in my ability to 'stay put' with my work that I never had before. Thank you!"
– Annemarie C.
"Eric helped me understand why I procrastinate and avoid my work and gave me the tools to address that. I am leaving here with the sense of how I can be disciplined and persistent when I return home. That's exactly what I was hoping to achieve here, so this was time and money well-spent."
– Jane H.
"Until this week, I had convinced myself that my ability to sit down and let the words flow was gone. I was mistaken. Under Eric's guidance, I have re-discovered my ability to sit down and simply write. I was able to open my laptop, begin typing, and not have to wait for words or ideas to occur to me. The idea of identifying anxiety and learning how to manage it in order to push through to the work has been liberating."
– Faith K.
"Such a delightful Deep Writing workshop! This is a wonderful, important experience for anyone wanting to move forward in their writing."
—Mary B.
"I came to the workshop with the desire to resume a writing practice. Never in my wildest imagination did I have the intention of starting a book. Guess what? I have started to write a book! Eric's lessons have broken down barriers—even my imaginary ones—that have prevented me from writing."
– Carol K.
"Eric's presentation style is casual yet precise and is rich with wisdom as well as practical tools that can be used immediately to produce real writing. I recommend his workshop for all writers and for anyone who wants to find the courage to call themselves a writer."
– Toni M.
"Fascinating, funny, and unbelievably useful. Finally, an approach to writing that actually works!"
– Susan B.
"Informative, motivating and honest. I highly recommend Eric's teaching for those sincerely interested in writing."
– Jack F.
"It's hard to get going on a writing project. This workshop provides everything that you need: helpful and inspiring lessons, plenty of time to write, and no sharing or critiques. You will be amazed by how much you will accomplish and you will go home with the tools and motivation to keep at it."
– Amy M.
"It is rare in our busy, technologically driven culture to be granted the space and freedom to show up in our own writing, to show up and see what is ready to present itself. What a gift!"
– Kelly A.
"The Deep Writing workshop helped me reframe the process and experience of writing and of being a writer. The things we learned had broad application to other areas of my life as well. Eric's authentic 'firm but gentle' style made for a relaxed but focused atmosphere and a space held expertly for our growth and learning. Thank you!"
– Susan N.
"Before the Deep Writing workshop with Eric Maisel I'd always wished I could be a writer.  Now, after the Deep Writing workshop, I know that I am a writer. I gained a new perspective on writing habits, have set new writing goals, and began a new book.  This workshop is Five Stars!"
– Mary W.
"I signed up for Eric's workshop because I was experiencing a classic writer's block after about 66,000 words of my book.  Not only was I able to get over the stuck part but I found the information on writing rituals, overcoming blocks, traditional vs self-publishing and the many resources for expanding my writing invaluable.  Thank you, Eric!"
– Jill R.
"Eric's Deep Writing workshop not only made me a better writer, it prepared me to be an author, which I now know for sure that I will be! The Deep Writing workshop created the perfect environment for progressing with your writing, embodying the life of a writer, and taking the journey to actually publish. This workshop is a gift for new and experienced writers both!"
– Renee D.
"My partner and I came needing different things and we both got what we needed. Practical and inspirational tips for writing and for life – Eric, we salute you!"
– Sarah S
"Eric's Deep Writing Workshop was the perfect combination of inspirational and practical!"
– Kate E.
"I wrote more in Eric's workshop that I ever have in the several dozen other writing workshops I have done. This wasn't merely a consequence of the extensive periods assigned to writing, but was also the result of using the tools and techniques taught by Eric. I appreciated his humor and the practicality of his suggestions."
– Bill H.
"What a wonderful, enriching experience! So many writing workshops use almost the entire time to talk about writing. Eric Maisel's Deep Writing workshop gave me time to write. After months of just thinking about my novel, I finally started writing again. I'm leaving Eric's class with renewed enthusiasm and excitement about my writing. And thanks to Eric, I'm confident I have new skills and knowledge to continue writing. I couldn't ask for more!"
– Terri S.
"This workshop was not what I expected. I expected 'exercises in writing.' What I received was a guide to my own creative process and a new-found respect for the process. It wasn't just a good experience; it was transformative. Thanks, Eric, you're a gem."
– Cathryn R.
"I came to this class in a post-MFA rut. My writing was stalled by anxiety and I had started doubting my ability to 'be a writer.' Dr. Maisel is an outstanding teacher. He has a calming presence and a very original and succinct distillation of principles. I filled my notebook and in essence solved my novel. I leave with clear goals, confidence, and a strong sense of purpose. I fell back in love with my novel."
– J. Haley C.