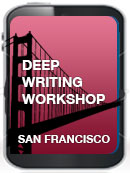 Dr. Maisel runs Deep Writing workshops at workshop centers like Kripalu, Omega, Esalen and Hollyhock and at selected European and U.S. locations. Payments for conference center workshops are paid directly to the workshop center. Payment for the upcoming San Francisco Deep Writing workshop can be made here.
The San Francisco Deep Writing workshop will take place from November 10 - 14, 2014. Further details can be found at this site here. The tuition cost is for workshop tuition only; all other arrangements are on your own. The fee of $475 is completely refundable until October 1, 2014, as is the deposit fee of $100 (if you prefer to pay a deposit now rather than the whole fee). After that date the fee can be applied to another workshop or training but it is not refundable.
The workshop is a definite go, so make sure to secure your place!
If you prefer to pay by check for the Deep Writing workshop, please contact Dr. Maisel at ericmaisel@hotmail.com
Get your deposit or your full fee in now!
If you have any problem paying electronically or if you get an error message, please drop webmaster Ron Wheatley 

rwheatley33@hotmail.com

 a message and we'll check it out! And you can always pay by check!
Updating...