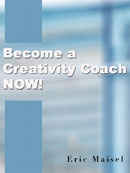 In this revised and updated guide Dr. Maisel, founder of the profession of creativity coaching, core trainer for the Creativity Coaching Association, and America's foremost creativity coach, explains the essentials of creativity coaching, including working with creativity coaching clients and building a creativity coaching practice.
In this essential guide, which contains more than 80 lessons, you learn how to develop your personal style as a creativity coach, how to identify specialties and niches, how to recruit first clients and attract paying clients, how to set goals with clients, and the differences between short-term creativity coaching and long-term creativity coaching. You learn what to do during sessions and between sessions, how to conduct in-person coaching, phone coaching, and email coaching, how to address the special coaching issues of writers, visual artists, and performers, and how to build and maintain a coaching practice. This guide is essential reading for anyone thinking about becoming a creativity coach, wanting to learn more about coaching, or interested in the issues and challenges of the creative life.
(Become a Creativity Coach Now! is included in the price of the Introduction to Creativity Coaching Training and the Advanced Creativity Coaching Training. You can wait to read it as part of taking one of those trainings or you can purchase it now and get a head start!)
Updating...