Peace and Purpose Online Retreat
A Guided Journey of Renewal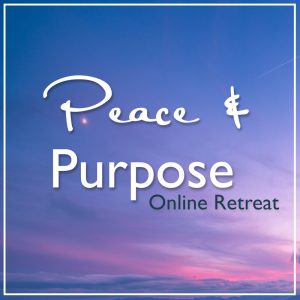 Spend a Saturday reconnecting with your life purposes while learning new tools for inner peace. During this day of guided writing, reflecting, and celebrating, you'll learn important lessons and gain vital insights. Come join me for a day of genuine renewal!
Most people never make the time to integrate the important learning that life and their various practices have taught them. This Saturday retreat is a profound gift that you can give yourself, the gift of renewal and life integration.
During our time together, you'll learn how to make the shift from seeking "the purpose of life" to announcing your life purposes, how to powerfully take charge of the meaning in your life, and how to heal any old wounds that may be preventing you from living passionately and peacefully.
During our day together, you'll receive important lessons and have ample time to write and reflect. If questions arise, I'll be there to answer them. Nothing that you write will be shared—this is a private time and an opportunity for you to go deep.
Give yourself this precious gift. I invite you to join me on this special day! I hope you'll come.
When
Saturday, December 8, 2018
Where
The comfort of your own home
Times
9 am pacific to 3 pm pacific
10 am mountain to 4 pm mountain
11 am central to 5 pm central
noon eastern to 6 pm eastern
What You Need
An Internet connection and email capabilities
Cost
$95
Come join me on Saturday, December 8, for this very special day.