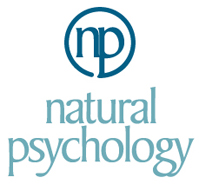 Natural psychology is a new addition to the ranks of the many existing psychologies. It looks at the human experience with a fresh eye, takes as its starting point a naturalistic worldview, focuses on the nature of meaning, and offers a vision of how a person with meaning needs might want to live.
Rather than seeing meaning as "objective reality" or as something like a lost object needing to be found, natural psychology identifies meaning as first a subjective psychological experience, second as an idea, and third as a certain sort of evaluation. This three-part analysis is a radical re-imagining of "what meaning actually is."
Because we are built to make meaning (and, more pertinently, value-based meaning), meaning turns out to be a wellspring and a renewable resource. Once you make the switch from looking at meaning as something you need to find and realize that it is something you can make, you change your life.
To learn more about natural psychology, please visit our natural psychology website.
NATURAL PSYCHOLOGY: THE BOOK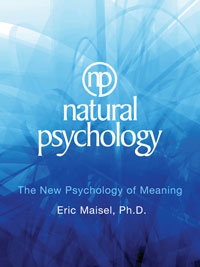 Begin your exploration of natural psychology by immediately accessing Natural Psychology: The New Psychology of Meaning. This full-length examination of the principles and practices of natural psychology introduces a brand new psychology with the power to improve your life, reduce your emotional distress, and provide you with a new way of thinking about meaning and life purpose.
"Eric Maisel's Natural Psychology is a wise and refreshing antidote to the current pathology-driven system that equates any distress with mental illness. Maisel encourages readers to evaluate what is most meaningful to them, provides easy-to-follow strategies for staying on track, and offers practical and innovative ways to take the reins of your own life. Brilliant!" —Judith Schlesinger, PhD, author of The Insanity Hoax: Exposing the Myth of the Mad Genius
"Dr. Eric Maisel has written a number of widely praised books on creativity and cogently argued books on depression, mania, anxiety, addictions and other disruptive psychological states.  Written in a clear, accessible style, his latest Natural Psychology: The New Psychology of Meaning takes his insights to a new level, presenting a complex and nuanced view of the process of 'value-based meaning-making' that should be of great interest to a wide audience." – Louis Breger, Ph.D., founding president, Institute of Contemporary Psychoanalysis, author Freud: Darkness in the Midst of Vision and Psychotherapy: Lives Intersecting
Access Natural Psychology: The New Psychology of Meaning here.
NATURAL PSYCHOLOGY CLASSES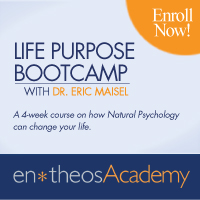 Life Purpose Bootcamp Class
Please don't miss Dr. Maisel's Life Purpose Bootcamp! This four-week class provides an excellent overview of natural psychology's principles and practices.
For more information and/or to enroll, please visit here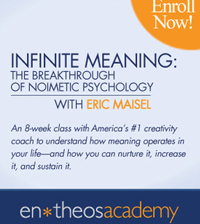 Infinite Meaning Class
Dr. Maisel introduces natural psychology in this eight-week class that is immediately available to you. Called "noimetic psychology" in 2012 when the class was first delivered, natural psychology is presented in this class via eight hours of audios (eight different lessons), with live questions and answers and other features that make it extremely worthwhile.
To access Infinite Meaning, please visit here

NATURAL PSYCHOLOGY WORKSHOPS
Several natural psychology weekend workshops will take place in 2013. Two are currently scheduled and more are planned. The two that are currently scheduled are a weekend workshop at Kripalu from March 15 – 17, 2013 and a weekend workshop at Esalen from June 7 – 9, 2013.
Here is the workshop description.
Natural Psychology: Exploring the New Psychology of Meaning
Natural psychology explains in clear, everyday language how you can actively make meaning. Through lecture, written exercises and group discussion you learn how to make new meaning investments, seize meaning opportunities, and create a meaning-filled life. Dr. Eric Maisel, pioneering developer of creativity coaching and the founder of natural psychology, will explain how you can reduce your emotional distress and transform your life by adopting natural psychology's language, techniques and unique vision. Meaning isn't easy to sustain—learn what you can do to insure that you never run short of meaning again. Join natural psychology's founder for this inspiring weekend.
To learn more about the Kripalu workshop and/or to enroll, please visit here.  The information may not be posted yet; if it isn't posted yet, contact Kripalu and let them know of your interest.
To learn more about the Esalen workshop and/or to enroll, please visit here. The information may not be posted yet; if it isn't posted yet, contact Esalen and let them know of your interest.
To learn about other natural psychology weekend workshops in 2013,
please subscribe to our newsletter.